3D Virtual Design in Tallahassee, FL
A Lengthy-But-Necessary Read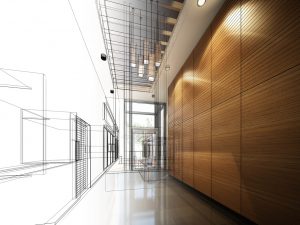 Building Information Modeling (BIM) continues to gain momentum with the promise of becoming a preferred method of project delivery, and we are both proud and fortunate to have been one of the "early adopters" of this type of 3D virtual design in Tallahassee, Florida. More importantly, we were one of the early adopters of Sage Estimating (Timberline) over two decades ago.
We at newspace.info recognized the growing importance and benefits that BIM brought to the construction industry and incorporated BIM services into our construction delivery methods as they have emerged and developed from amusement to application. Until the past few years, BIM has been more of a novelty than a valid means of designing a project. Early adopters were, and often are still are, forced to rely on a double-entry system of performing 2D reports and take-offs from visual 3D models.
Design Visualization
The BIM model provides an unparalleled level of 3D virtual design communication that is not possible with 2D delivery methods. It can be explored in-depth by a virtual walk-through of the space. The unlimited views and sectional analysis of the project and the scope of work has never been possible before except in the minds of savants.
These design visualization benefits of the BIM model are carried through to the construction phase, using our Sage construction modules which invite and control bids, handle documentation, changes, and revisions.
The Pitfalls
Take-me-there graphics become a game of roulette — who gets to do the pricing? Let the buyer beware of this important feature.
Problems and issues still exist with the "seamless" links or bridges between the stunning visual and the necessary enumeration of nomenclature in a usable format. The "eye candy" graphic and the necessary "bean counting of quantities and volumes" is the remaining (often missing) link. Many companies capable of producing smoking-hot graphics only pretend to have resolved the ability to procure a cost estimate they will live by.
Once the 3D model is constructed and materials conceptually selected, the model must be rendered to move from a Pac-Man-like representation to the 3D, photo-realistic models we love to see. This is an impressive transformation, akin to seeing bridesmaids both enter and leave a bridal dressing room.
A firm which uses amazing programs like Lumion can typically overwhelm a client with the graphics and close a deal on sight, but they can't count the 2 x 4's. Those that can count the necessary materials often can't wow you with graphics. This is generally done by two separate companies. Those who use cutting-edge graphics are ahead of the industry curve, and only now beginning to translate the visual representation into the estimating segment of the task.
The BIM Benefits
The visual model allows newspace.info an opportunity to recommend alternative means, methods, details, practices, processes, and more that may be of benefit to the project in terms of time or money saved. We use the most current software platforms to perform BIM-related tasks, including:
Design Visualization
Constructability Reviews
Quantity Take-Off Verification
Site Planning and Site Utilization
Systems Coordination and Clash Detection
Trade Coordination
Virtual Mock-Ups
Scheduling and Sequencing Reviews
As-Built Documentation
Other Benefits: Planning and Clash Detection
The BIM model can be utilized to plan and communicate how the project site will be used. The model can flow between revealing existing conditions, logistical activities, work phasing, and sequencing.
These conditions and more can be modeled into the project BIM model. They are an effective means of conveying the plans for the project site face to face, on Skype, congregational meetings, and more.
Once aggregated models are developed to a desired level, they can be examined as model objects to determine where clashes between systems occur. Any structural or mechanical conflicts can be located and corrected long before the construction document production occurs.
Post Construction and Facilities Management
The completed model can be turned over to the facilities manager for assessment. The model can be used to show revisions to the mechanical, electrical, and plumbing systems, which deviated from the original plans. Because the construction team maintains and incorporates each of the documents associated with change management, equipment data, and more, the virtual model can be viewed with many third-party applications as they are developed.
Trust our pros to give you the best sense of what your finished project will look like. Contact us to schedule a consultation.